Amazon has done well during the pandemic, and the company is one of a handful with over a $1 trillion valuation. That swell already had many investors wondering whether they should buy Amazon stock, but the interest picked up on March 9 when the company announced a 20-for-1 stock split.
What that means: Current Amazon investors will get 20 shares for every one share they own, though the total value of their shares remains the same. New investors will be able to buy shares of the stock for significantly less.
Investing in Amazon is Synonymous With Investing in "The Best Businessman in the World"
It's not lost on anyone that investing in Amazon is synonymous with investing in the world's richest man, Jeff Bezos (although recently Bezos and Elon Musk, founder of Tesla, are vying for this position).
The entrepreneurial skills of Amazon's founder and current Executive Chairman are undeniable. Many consider Bezos one of the most astute businessmen in the history of mankind.
Remember that Bezos created Amazon in 1994, and in just over 20 years managed to position Amazon in the leading company it is today; becoming, along the way, one of the richest people in the entire history of mankind.
He owned about 11.2% of the company, as of his most recently reported transaction (a stock gift) on March 1. His stock is worth more than $108 billion as of the market close on March 31. That stake should provide plenty of motivation for Bezos to run the company in such a way as to increase the stock's value over the long haul.
Online Shopping Continues to Grow in Popularity Around the World
Amazon's international business is also poised to keep benefiting from this global shift toward shopping online. In 2019, e-commerce sales accounted for 14.1% of all retail sales worldwide, up from 12.2% in 2018. This figure is expected to reach 22% in 2022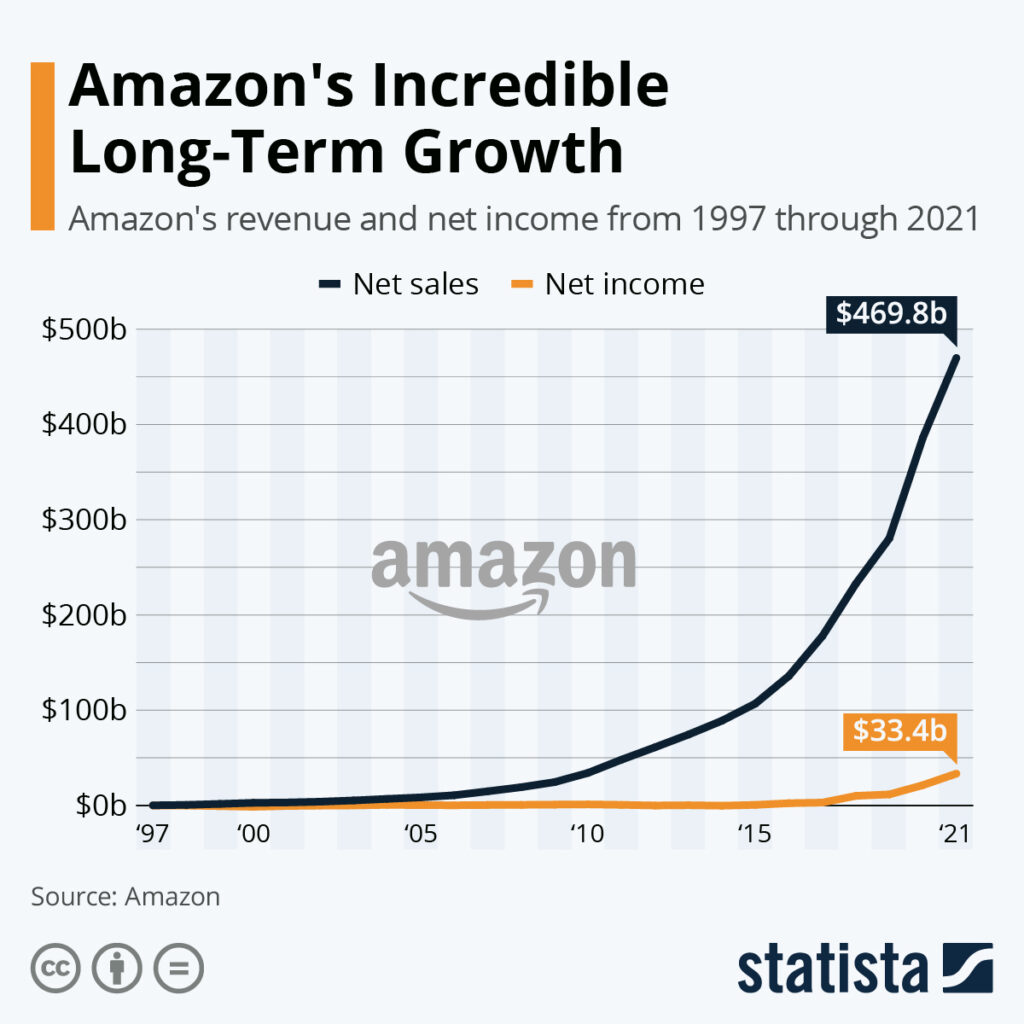 Amazon is Much More Than an Ecommerce Platform
There are many other reasons to buy Amazon stock. These include the company's burgeoning smart-home business, centered on its artificial-intelligence-powered assistant Alexa, and its budding healthcare business, which includes its online pharmacy PillPack.
Moreover, in its e-commerce business, advertising revenue is increasing, and the company is expanding the number of private-label items it sells.

Learn More About Amazon Stocks!

U.S. Online Sales Continue to Take Market Share From Brick-and-Mortar Sales
Americans increasingly prefer to do their shopping online, which provides a tailwind for Amazon's domestic business. In the fourth quarter of 2019, e-commerce sales accounted for 11.4% of all U.S. retail sales, according to the Census Bureau. For full-year 2019, 11% of total retail sales were transacted online, up from 9.9% in 2018.
E-commerce sales will never come close to reaching 100% of all retail sales. But certainly, that 11.4% figure has a lot of room for growth.
Amazon Prime membership is growing briskly
The total of Prime members has been growing at a nice clip. In January, Amazon announced there were more than 150 million Prime members worldwide. In 2018, the company said it had more than 100 million members globally.
This growth is important because Prime members have been found to spend more money than nonmembers on the company's site. One study has pegged the average member's annual spending at more than double that of the average nonmember.
Bottom Line
Among Wall Street's top financial analysts there is a nearly unanimous consensus when it comes to investing in Amazon. Out of 50 financial analysts surveyed, 48 either recommend buying its stock immediately or estimate that Amazon's stock growth will outpace that of its competitors. The remaining 2 analysts give it a "hold" rating.
If you're ready to buy Amazon stock, Let our experts take care of you!