Worldcoin, a visionary cryptocurrency initiative led by OpenAI CEO Sam Altman and Alex Blania, is making waves with its global rollout, aiming to revolutionize digital identity verification while prioritizing privacy. This ambitious project has garnered substantial support, raising approximately $250 million from prominent backers. At its core, Worldcoin offers individuals a unique digital identity known as World ID, established through an iris scan using the cutting-edge biometric device called the 'Orb.' This pioneering technology lets users confirm their human identity online while safeguarding their privacy.
Key factors
Worldcoin Offering Unique Digital Identity Verification
Worldcoin, the long-awaited cryptocurrency and digital ID initiative spearheaded by Sam Altman, officially launched on Monday, marking a groundbreaking development in the crypto landscape. The project's core focus is an eye-scanning "orb," which provides users with a distinct digital identity, proving they are genuine individuals rather than bots or algorithms.
Available at World App
Accessible through the innovative World App, the startup's first protocol-compatible wallet software, Worldcoin has already gained traction, with over two million users across 30 countries successfully verifying their World IDs via the "Orb." Despite criticism, particularly regarding its practices in certain regions, the project remains steadfast in empowering individuals and increasing economic opportunities worldwide.
Eye-Scanning Orb at the Heart of Worldcoin
At the core of the Worldcoin project lies the eye-scanning "orb," a sophisticated technology that requires in-person usage. The orb captures eye scans, which, in turn, generate a unique digital identity for each user. This novel approach to digital identity verification aims to tackle the challenges posed by artificial intelligence's rapid advancements in content generation.
Crypto Token and App for Seamless Transactions
Upon successfully verifying their identity with the eye-scanning orb, users gain access to the Worldcoin cryptocurrency token. The token facilitates seamless payments, purchases, transfers, and handling of other digital assets. This integration of digital identity and cryptocurrency further enhances the platform's potential for widespread adoption.
Rapid Expansion of Eye-Scanning Operations
Having collected over 2 million users during its beta phase, Worldcoin is now primed to expand its eye-scanning operations. The platform plans to operate in 35 cities across 20 countries, reaching a global audience. As the project gains momentum, the Worldcoin token is already up on various exchanges, such as Binance, the world's largest crypto exchange.
Privacy-First and Inclusive Solution
Worldcoin's co-founder, Alex Blania, emphasizes the project's commitment to a "privacy-first, decentralized, and maximally inclusive" approach. Additionally, addressing concerns regarding the need to prove an individual's identity, the platform provides a secure way of verifying digital identities.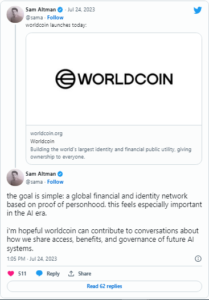 Concerns and Uncertainties Surrounding Worldcoin
Worldcoin project has faced criticism and uncertainties—biometric data, such as eye scans, concerns privacy, and data security. Critics worry about such sensitive information's collection, storage, and usage. Additionally, the project's U.S. availability remains to be determined amid the current regulatory landscape surrounding digital assets.
Worldcoin's Hopes for Global Adoption
Sam Altman expressed his vision of enrolling 2 billion users onto the Worldcoin platform following its launch. However, given the in-person requirement for eye-scanning appointments, the project's scalability may need to be improved. The company is actively working to onboard more orb operators and has already manufactured 2,000 orbs to support its growth.
Conclusion:
Worldcoin's official launch marks a significant milestone in cryptocurrencies, offering a novel approach to digital identity verification. With its eye-scanning orb and privacy-first philosophy, Worldcoin aims to provide a viable solution posed by AI-generated content.  Hence, the crypto community eagerly awaits the impact of this project on the future of digital identity and cryptocurrency adoption.