In the ever-evolving realm of cryptocurrency, every week brings forth a whirlwind of developments, market fluctuations, controversies, and innovations. And, the last few days of the first week of September were nothing less than other. In this edition of weekly crypto news, we will discuss some of the top crypto headlines of the past few days that have made massive noise in the digital world. From shocking market fluctuations to Visa's partnership with Solana, many top crypto news stories have captured the spotlight in the past few days. So, all beautiful people reading this out, tight your seatbelts as we take a flight to cover the top crypto news of this week.
Visa Partners Solana and USDC for Cross-Border Payment Revolution:
On September 6th, many news outlets confirmed Visa partners with Solana to enable cross-border payments in USCD. This move is undoubtedly going to revolutionize the financial landscape. As soon as the news became public, the prices of Solano skyrocketed to reach new heights. However, this is not the first time Visa has deployed a pilot program. A renowned financial firm partnered with Ethereum two years ago to enable cross-border payments using Starknet.
Ripple Heads to London Court in $15 Million Dispute with U.K. Currency Exchange:
Ripple will fight a new legal battle, not with SEC, but this time, it's with GCC Exchange (a UK-based exchange). In 2022, Both Ripple and GCC Exchange entered a supply deal where a UK-based exchange obtained permission to use Ripple's services to facilitate the transfer of XRP units. However, who would have thought things would be intense for both parties? On September 4th, Ripple officially heads to London court to sue GCC exchange for almost $15 million. Ripple alleges that GCC Exchange (an entity behind popular exchange) has failed to pay the invoices of 40,000 transfers of XRP units. However, the lawsuit was filed back in July; to avoid controversy, it was not made public.
KEB Hana Bank and BitGo Announce Game-Changing Strategic Alliance:
Korean Blockchain Conference, a cryptocurrency industry news, made numerous announcements, but the most notable one was KEB Hana Back's alliance with BitGo. KEB Hana Back is one of the leading banks in Korea, and now, it looks like KEB will step into the digital asset's world. On September 5th, Hana Back representatives confirmed the news of their strategic alliance with BitGo to establish digital asset custody in South Korea. Though much more information related to joint ventures is still under wrap, we can expect the launch in the second half of 2024.
Ripple Questions SEC's Qualifications for Appeal, Sparks Legal Dispute:
It looks like the Ripple vs. SEC legal battle will not end soon. It ended in July when the court passed a decision in favor of Ripple. But, within a few weeks, the SEC filed an appeal to review this case again. On September 1st, Ripple's legal team raised necessary questions in U.S. District Court. Ripple's legal team said that SEC's appeal largely depends on their dissatisfaction as the court passed a decision in XRP's favor.
Moreover, they also raised questions on the eligibility criteria and on what grounds the SEC has filed an appeal. According to law, interlocutory appeals can be filed only during exceptional circumstances. However, in the SEC's case, these basic circumstances are missing.
Robinhood to Repurchase Sam Bankman-Fried's Stake for $605.7 Million:
Sam Bankman-Fried and Gary Wang (fellow FTX co-founder) owned 55 million Hood shares through Emergent Fidelity Technologies. However, the U.S. Government seized these shares due to a liquidity crisis at FTX and many criminal allegations against Sam Bankman. Therefore, Hood Shares were heavily affected by these events. But now, things are looking positive. On August 28th, the U.S. District Court for the Southern District of New York approved a share repurchase agreement. According to this, Robinhood is free to repurchase shares previously owned by Sam Bankman and Gary Wang for $605.7 million. Within a few hours after this news became public, the shares of Hood surged more than 3% in the market.
Market Whiplash: Analyzing the Week's Dramatic Fluctuations:
September is historically believed to be a bad month for cryptocurrencies, and this year is not less than previous ones. The first week of September started with Bitcoin surging to new lows while altcoins-maintained stability. But in the last few days, things are picking up and looking good for the overall market. However, various predictions are made regarding the possible lows and highs of leading cryptocurrencies like Bitcoin and Ether.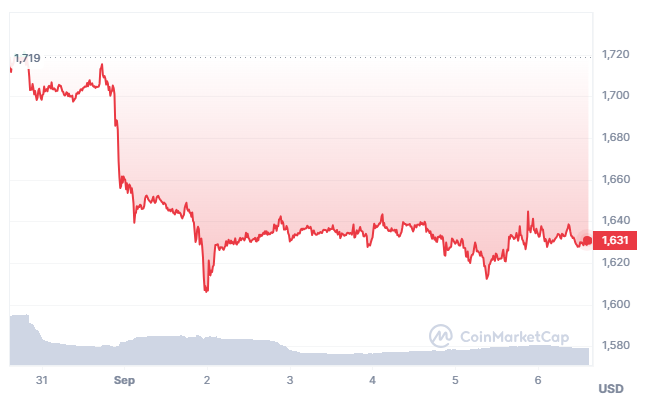 Source: Coin Market Cap's Bitcoin Weekly Data
Bitcoin plumbs a 6-month low near 25K on September 2nd. However, the prices picked up in the upcoming days.
On September 2nd, Ethereum dipped like other major cryptocurrencies, but the prices surged over time.
Takeaway:
The first week of September has been one of the recent hard times in the crypto world. This week was like a long adventure, from the prices of various crypto exchanges dipping to never-ending legal battles. And, as we proceed to the second week, things look pretty good for the crypto landscape. Whatever happens, you'll get brief information on each major event only at Coin Informer's weekly crypto news updates. Stay tuned and Let Coin Informer be your trusted source for top crypto headlines.