Hello! All lovely people reading this out. How are you guys doing? Good! Well, as you should, because the weekend is on its way. And you must be planning to make your way to hang out with friends or loved ones. Well! Coin Informer would like to present top weekly crypto news (October 12th to 19th) to make you aware of what's happening in this ever-evolving industry. This week, media tabloids finally sidelined SBF's court trial and offered to report on other news. Patric McHenry presides as an acting speaker in the House of Representatives, While Coinbase passed Red Flag against the IRS crypto tax proposal. Moreover, Liquity's LQTY witnessed good growth over the weekend, and CNBC's latest report on Jimmy Zhong wiped out all suspense.
You must be thinking, what we're even talking about? 
There is nothing wrong with this; who can even get the entire news by reading one line? 
That's why we have dedicated this blog post to discuss top weekly crypto news as a part of the weekly series. So, without wasting much time, let's delve into it.
Patric McHenry, becoming an acting Speaker, will Push Back Crucial Crypto-Oriented Bills: Weekly Crypto News
On Friday (October 13th), the U.S. House of Representatives witnessed chaos due to the top republican candidate dropping out of the speaker race. This led to other republican members causing uncertainty in the house. Since the seat of the speaker was vacant. Patric McHenry, chairman of the House Financial Services Committee, was picked as acting speaker of the U.S. House of Representatives. Does it sound like a happy ending? But it's not good news for the crypto world.
Patrick McHenry is one of the biggest crypto supporters in Congress. McHenry, acting as a speaker for a temporary purpose, will sideline important decisions on crypto for the upcoming month. Decisions on two important crypto-oriented bills (government guardrails for stablecoins and regulations for the crypto market) are still awaited. With McHenry becoming an acting speaker, it may seem these bills may be discussed in the House in 2024.
Coinbase Resisting IRS Crypto Tax Proposal: Weekly Crypto News
As a crypto enthusiast, you would have heard of 'Coinbase'? Yes, the biggest U.S. crypto exchange. On October 13th, Coinbase wrote a letter to the IRS (U.S Internal Revenue Service), criticizing their recently proposed rule about the tax system in the crypto industry. The latest proposed law by the IRS emphasizes the guideline of how crypto brokers can properly pay their taxes. However, Coinbase was in no mood to accept this new proposal. In a letter, Coinbase described this law as
An Unprecedented, unchecked, and unlimited tracking of the daily lives of America'. 
Stablecoin Lender Liquity's Token Gains 80% in Month as Activity Increases: Weekly Crypto News
On Saturday, crypto analysts were shocked to witness the sudden rise in LQTY tokens (Liquity's native token). Don't know about Liquity? There's nothing to worry about, we'll tell you.
Liquity is a borrowing and lending platform allowing users to secure loans in Liquity's stablecoin, LUSD. In September, LQTY was trading at $0.75, and now, it stands at $1.35.
Many analysts also highlight that the LQTY rise was not sudden; the token has been growing over the past few weeks. However, one of the well-wishers for Liquity credits Bluechip (A stablecoin agency)
Hamas Using Binance Networks to Collect Funds: Weekly Crypto News
Last Saturday, Hamas (a Palestinian militant or terrorist organization) attacked Israel, resulting in massive destruction. In resistance, Israel attacked Gaza with heavy air strikes. After a few hours, this news became viral, and the world split into two parts: Some stood with Palestine, while others were against it. The crypto world also immersed its hands in this matter when Defi enthusiast Yogi publicly tweeted that Hamas was using Binance to collect funds for these terrorist attacks.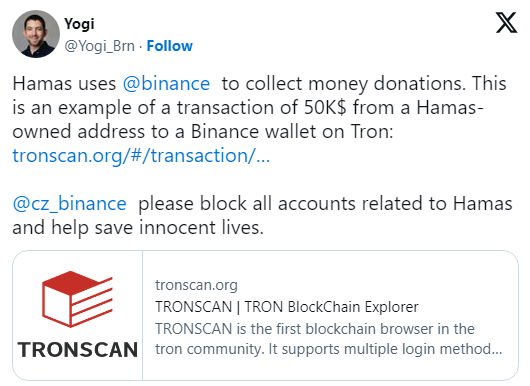 CNBC's New Report on Jimmy Zhong Clears All Doubts: Weekly Crypto News
Remembered, the name, 'Jimmy Zhong'?
Yes, the person who did the largest cryptocurrency seizure. CNBC has published a new report in which they have shared additional details about Jimmy Zhong's arrest. According to the report,
He was arrested on the grounds of wire fraud and stealing 50,000 bitcoins from the Silk Road Marketplace.
Zhang called emergency services in Athens to inform them that his hundreds of thousands of dollars of bitcoin had been stolen from his residence.
U.S. Department of Justice solved this case, and the court imprisoned him for one year & forfeited his Bitcoin.
An FDIC Inspector General Quotes, 'FDIC is lacking to Offer Proper Guidance to U.S Banks': Weekly Crypto News
On October 18th, the General Inspector of FDIC is criticizing their own agency for not offering proper guidance to U.S Banks. According to a report published on Wednesday, the inspector general studied FDIC's whole performance and found it lacks proper guidance. Moreover, to change this trend, the general and agency have negotiated to adopt a new strategy by January. The inspector may have noticed that the FDIC insisted banks paused their crypto activities last year, but the agency didn't tell them when to start these services again.
Wrapping Up:
In this rapidly evolving crypto landscape, staying informed about such developments is crucial for anyone involved or interested in the industry. Keep an eye out for further updates and crypto weekly news in the coming weeks. Enjoy your weekend, and stay informed!