"Cryptocurrencies are the embodiment of change, challenging the foundations of finance." -Marc Andreessen
This famous quote is 100% true: the crypto world is so dynamic and constantly changing that it is tough to predict what will happen in the future. However, each change brings new innovations to reshape the financial landscape and brings various breaking news, controversies, crises, and legal battles. And, to keep you fully informed about these exclusive crypto news, Coin Informer takes this responsibility.
So, without wasting much time, let's discuss some of the biggest breaking news from the 27th to the 29th of August.
Foreseeing Bitcoin's Most Significant Impending September Price Plunge Since 2013:
The world's most popular cryptocurrency has been going through many ups and downs this year. The early 2023 was still good for Bitcoin as it was stable and growing at reasonable rates. But, the sudden drop in August, approximately ten days ago, led to shock waves in the market. For more related information regarding the recent downhill in crypto prices, Click here:
After the cruel August, the next month of September is also not looking good for Bitcoin. Most of you must have known September, historically, is one of the worst months for Bitcoin. Since 2017, Bitcoin has shown an average drop of 8.5% every September for five years (as referred to in Image 1).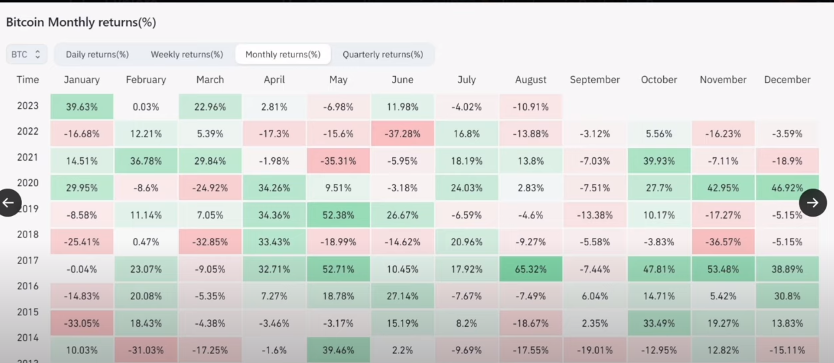 Image. 1: Bitcoin Monthly Returns (Screenshot), Source: CoinGlass
Why is September a Historically Bad Month for Bitcoin?
There is no particular theory or reason behind September being a bad year for Bitcoin. Many believe it is a September Effect, as, in this month, markets become bearish and, consequently, decide to sell their assets. Therefore, September is a bad month for Bitcoin and other markets and currencies. Since 2014, Bitcoin has dipped abruptly in September, but numerous times, this dip has resulted in the growth of the cryptocurrencies in upcoming months. Now, the question arises: Why are crypto analysts worrying about September if the same statistics have occurred for years?
Jerome Powell's Jackson Symposium Speech: Could It Spell Trouble for Bitcoin?
Many experts are predicting September to be the worst month for Bitcoin since 2013. Moreover, many are predicting that Bitcoin will witness its biggest all-time low in recent years. The apparent reason behind this seems to be Bitcoin's latest dip in August. However, that's not true at all. Jerome Powell's (US Federal Reserve Chairman) speech at the Jackson Hole Symposium has something to do with it. In his speech, Powell made it clear that the inflation in the US is still high. And to control this, the central bank can raise the interest rates if needed.
Recently, in July, the central bank raised interest rates, marking the highest level in the US in the past 22 years. Therefore, crypto investors are concerned about the after-effects of the market if interest rates increase again.
An Ultimate Faceoff Between SEC and Impact Theory & More Legal Battles in September:
Not only in terms of market indexes but also legally, the entire crypto world appears poised for impending challenges. SEC – The US Securities and Exchange Commission frequently appears in the news due to its legal battles with numerous crypto exchanges and leaders. And, this time, the world is witnessing a new legal battle – SEC vs. Impact Theory. This news came on August 28 and, in no time, took the internet by storm. An Impact Theory is a Los Angeles-based media and entertainment company that raised NFTs (also known as founder's key) worth $30 Million. In resistance, Impact Theory said to aim to become a new generation Disney and thought NFTs would help them to achieve this motive. However, within a few hours, both sides settled down, and SEC charged a $6 Million fine to Impact Theory.
The battle between SEC and Impact Theory indeed would have ended, but there's so much to see in the next month of September. The legal trials of many crypto-related cases with the SEC will be conducted in September (as referred to in Image.2). These cases are not only related to a particular individual or crypto firm who's sued but involve the whole crypto community. Since one big win by the SEC can result in significant transformations in the crypto landscape.

Image. 2: SEC's September Calendar for Crypto Related Cases, Source: Bloomberg Intelligence
An End to the Mystery of Pepe Coin's Unauthorized Withdrawal of 16 trillion Tokens:
On August 24th, 2023, the pepe coin community witnessed a mysterious transaction of 16 trillion pepe tokens worth $16 Million. The team behind the Pepe coin and their investors were all shocked to see this. Moreover, the next day, the prices of Pepe coins went downhill with a 16% drop. However, recent news suggests this mystery is resolved now. Some rogue developers of Pepe coin itself were the culprits behind this unauthorized crime. They withdraw 16 trillion tokens and transfer them to other crypto exchanges like Bitcoin.
Ben Armstrong Ousted from Own Company, Sending Crypto Community into Disbelief:
Ben Armstrong is not a stranger to the crypto community, but his sudden departure from his company can be strange. He is one of the famous crypto personalities, created the beloved YouTube channel 'BitBoy Crypto.' On August 28th, 2023, Ben goes on Twitter to announce shocking news about the inside coup led by TJ Shedd and Justin Williams. However, he also says this is not going to happen.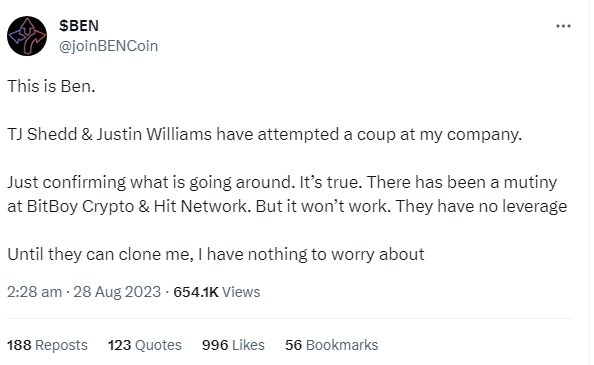 A few hours later, Jason A. Williams declared that Ben Armstrong had been fired from his company. He announces sarcastically on his Twitter account.
The reason behind this sudden coup has been plenty of questions among the crypto community. Many are asking, exactly what are the reasons behind this. There are numerous theories on it, but nothing is confirmed right now.
Stay Tuned for More:
That's the exclusive crypto news of the past few days. As discussed above, the crypto world is an ever-changing sphere where something exciting, controversial, good & bad happens every minute. Coin Informer takes pride in keeping you informed about all the latest updates in the crypto landscape. Stay tuned with us for the next all-big-breaking crypto world.